Surface water management begins with an assessment of the hydrological demands of the project. The rainfall and topography of the landscape then determines the surface water solution.
As the available land in cities becomes increasingly developed, large surface areas are being covered with impermeable pavements. This leads to an increase in volume of water runoff on the stormwater system and to receiving waterways which ultimately impacts the environment. Government departments regulate stormwater quality and detention. Policies and guidelines are put into place supporting innovative solutions to conserve, retain and reuse our most valuable water resource.
Sustainable surface water management is an integral part of the planning process. Urban designers need to consider managing the quantity as well as the quality of water that is discharged after it has been captured and stored. Plastic geocellular systems have been used for a number of years and are a widely accepted method of creating infiltration and detention systems. When properly integrated, they can enable stormwater discharge at a slower more natural rate. This protects the stormwater system, prevents erosion and increased flow to receiving waters. Pollutants, debris and sediment can be removed from the water so it can be harvested for reuse in parklands, sports fields, commercial agriculture and residential gardens.
ACO StormBrixx® is a unique patented plastic geocellular stormwater management system designed for surface water retention, detention and infiltration. It is a versatile system suitable for applications across all construction environments. It can be installed as a standalone solution or as part of an integrated Water Sensitive Urban Design (WSUD).
A drawback of many geocellular systems is the lack of accessibility for maintenance. ACO StormBrixx® was developed to address accessibility issues and to enable easy maintenance. The system provides 3-dimensional access for inspection and maintenance while retaining the structural integrity of the system.
ACO StormBrixx® HD is designed for heavy-duty applications and ACO StormBrixx® SD is designed for medium duty applications.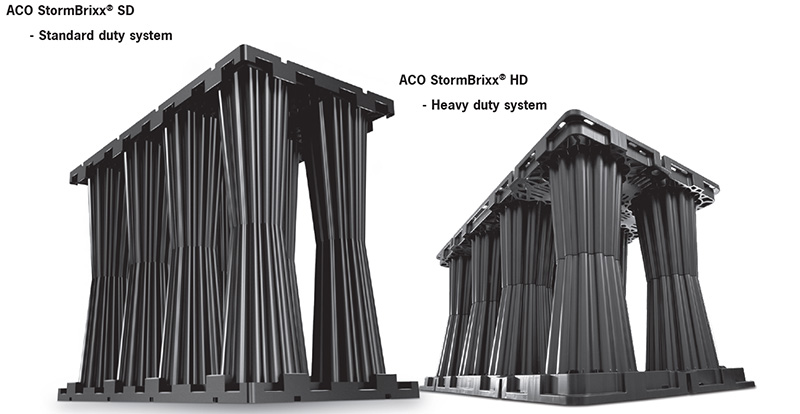 ACO StormBrixx® is the world's leading stormwater management system for the following reasons:
Structural Integrity
The StormBrixx® system has been independently tested for structural integrity and durability. The patented brick bonding and cross bonding feature provides a strong yet lightweight construction system that enables quick and easy installation of the tank.
Access, maintenance and low construction depth
StormBrixx® has an open cell structure that enables access for CCTV and jetting equipment. The whole system including the extremities can be inspected and maintained from a few access points. The unique pillar configuration gives a high void ratio of 95%-97%. A choice of access chambers is available for the system.
The high void ratio has the added benefit of minimising the amount of excavation required to obtain a nominated design storage volume. The aggregate needed for backfilling is also reduced.
Simplified handling and logistics
The StormBrixx® stackable design simplifies delivery, site logistics and the installation of the tank, which reduces the carbon footprint of the system. The system can be assembled in a variety of ways to form an open bonded structure.
Recent Case Studies
St Maria Goretti Primary School in Western Australia used ACO StormBrixx® in their recent building upgrade. The designers required a high capacity and durable stormwater management system to resolve a drainage problem in an area on the school grounds. The drainage system was required to collect the excess water, filter it and gradually release the water back into the water table.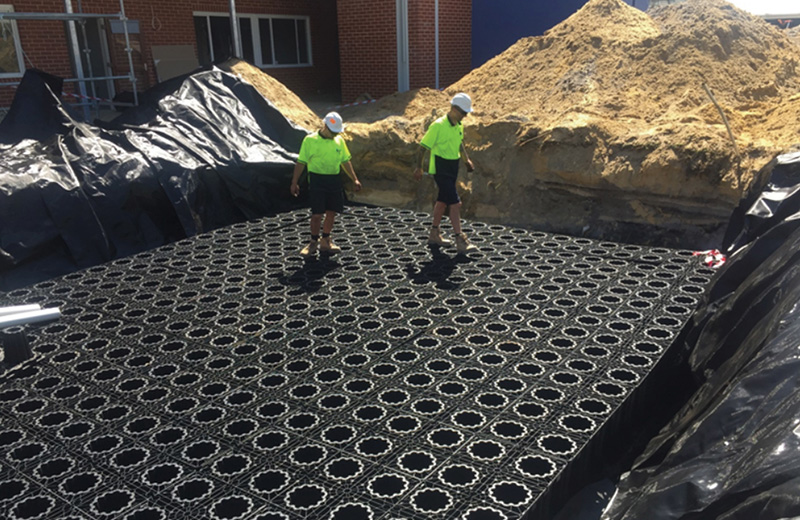 The University of Canberra Public Hospital used ACO StormBrixx® to solve the runoff from the carpark pavements. Two different tank systems were installed. One was an infiltration system and the other a detention system to spread the peak flow of water during a storm event over a longer period of time and eliminate a surge effect downstream.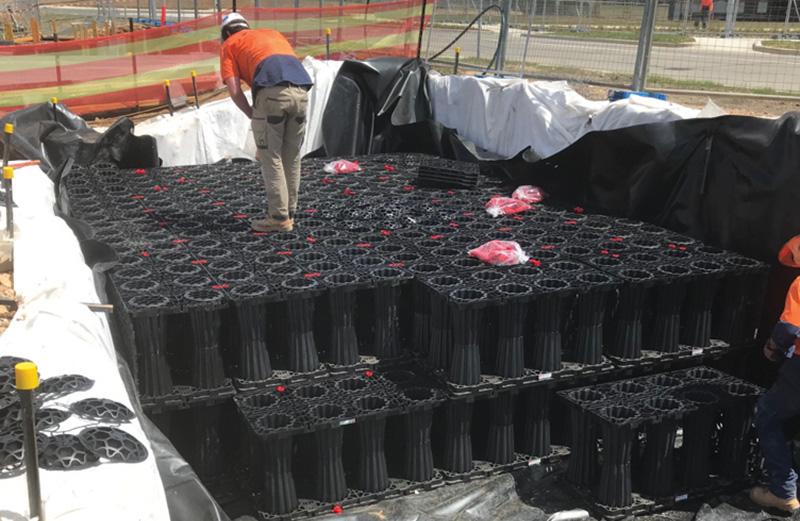 ACO can provide the expertise to assess the requirements of any project and offer product solutions to manage the surface water across the site to address all phases of drainage from stormwater 'capture' to stormwater 'release'. Project specific structural calculations, installation drawings and a bill of quantities are also supplied accompanied by high quality technical documentation. This service is offered free of charge and obligation.
ACO StormBrixx®, when used with other ACO drainage products, provides the complete drainage solution that can collect, clean, hold and sustainably release stormwater.