Standard Duty (SD) & Heavy Duty (HD) underground storage tanks
ACO StormBrixx®
Can be used as part of the ACO System Chain
ACO StormBrixx®
A modular system that can meet any storage requirements
ACO StormBrixx®
Recycled material, stackable packaging requiring fewer trucks
ACO StormBrixx®

Open cell structure for easy inspection & optimum storage capacity
ACO StormBrixx®
ACO StormBrixx® is a unique and patented plastic geocellular stormwater management system designed for surface water infiltration and storage.
Its versatility allows it to be used in applications across all construction environments as a standalone solution or as part of a Water Sensitive Urban Design (WSUD) scheme.
These systems consist of factory manufactured components that are strong and easy to assemble in a brick bonded and cross bonding connection for optimal stability. The open cell structure permits completely free access for CCTV and jetting equipment which allows the whole system, including all the extremities, to be inspected and maintained from a few access points.

Systems include:
Related brand: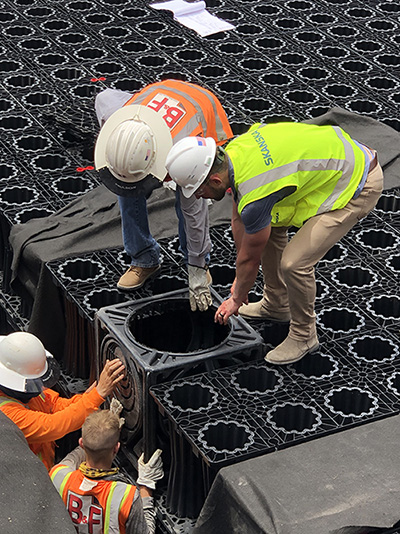 Advanced geocellular stormwater management
ACO StormBrixx® is a system consisting of a single, recyclable, polypropylene body that can be assembled in a variety of ways to form an open bonded structure.
Plastic geocellular systems are a widely accepted method of storing stormwater but a drawback of these systems is the lack of accessibility for maintenance.
ACO StormBrixx® was developed to address accessibility issues and to enable easy maintenance. The system provides 3-dimensional access for inspection and maintenance while retaining its structural integrity under load.
Case studies for ACO StormBrixx® solutions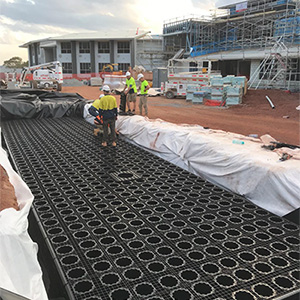 [As part of a stormwater detention system]
Designers needed to incorporate an underground stormwater tank to collect runoff from a combination of different areas on the site. The detention tank would store surface water collected from hardstand areas, as well as water collected from various roof structures.
Read more about this here.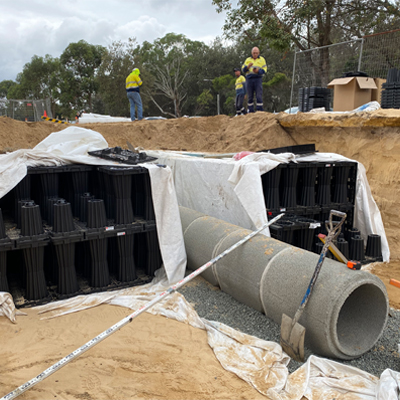 [As part of a stormwater infiltration system]
There were many drainage constraints on this site but the sandy soils in Umina enable high infiltration rates, making it ideal for an infiltration tank. These tanks hold collected stormwater during a storm event before a gradual release into the surrounding soil.
Read more about this here.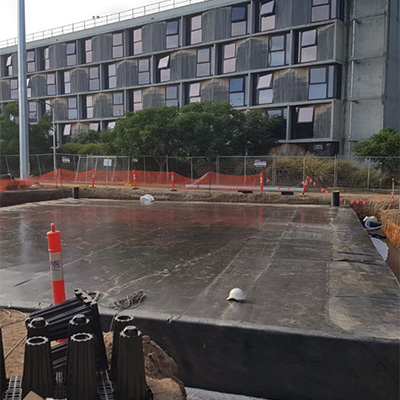 [As part of a stormwater retention system]
With the large catchment area, the University sought to capture the stormwater from the synthetic fields and reuse on the nearby grass sports fields. To achieve this, a stormwater retention system would be required to capture and store the water on site.
Read more about this here.